Home
About BME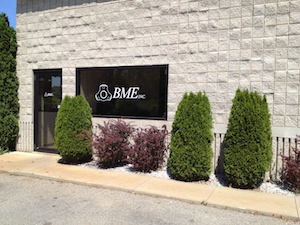 We provide quality attachments for the screw machine industry through original and innovative design and engineering with proven results. We create a perfect integration between attachment and machine. Founded on the principal that quality attachments and accessories can be manufactured and supported right here in our own country!
Why BME?
Our engineering is unsurpassed, allowing years of experience working on machines and attachments to blend with years of experience in mechanical design.
The most advanced software is used to create the systems that meet customer's requirements to perform the demanding needs of today's manufacturing.
When modeling our assemblies in the design stage we apply advanced technology to determine stress analysis and design balance.
Our engineering allows us to validate the form, fit and function of the attachments we build.
We communicate effectively with our customer, which reduces errors and delivers a better, innovative product faster.
We use motion simulation to enhance our designs, to make sure our designs are strong enough while avoiding over-design.
We examine the deformation of parts and assemblies under static loads to determine minimum and maximum stresses, while guaranteeing our designs meet the necessary safety standards.
Our attachments save our customers money by allowing complete processing.
A part that is manufactured completely in one step without a secondary operation allows an unmatched advantage, increasing profits and quality. The less a part is handled, the more cost effective the process!
Please visit our eBay storefront!